Heey there blogging fans, it's your girlie Kaelyn@Kaelyn's Life and Stuffed Stories here today for a post on Living the Blogging Life! I am actually pretty pumped about it! It happens to be about something that you probably already know because I mentioned it in the title…*cough cough..
I am going to be talking about BITMOJIS!!!!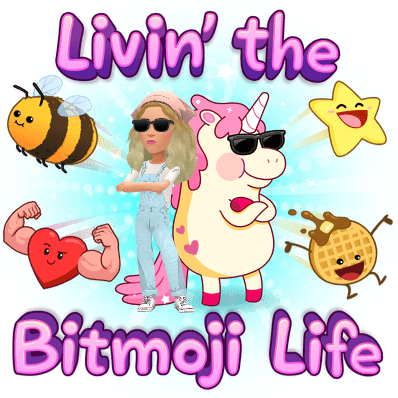 Bitmojis are incredible and fun! I know that you may be thinking like, honey boo, but what is a bitmoji and well, I am glad that you asked! 😀
Bitmoji is a " FREE personalized emoji", but it looks like YOU!
You get to customize it to look like you! If you want, you can add fun colors to your hair, glasses, etc. You don't have to have that, for example, hair color in real life, to add those purple highlights!
For example, I have pink hair on my bitmoji right now, even though I don't have pink hair in real life, although I used too, but anyways, you get my meaning!
There is a bitmoji for almost anything and everything! From greetings, goodbyes, funny things, LOL's, holidays, and really all the things and everything in between! You can also customize your bitmoji with certain phrases, like how it is shown with my bitmoji below!
If you want to customize your bitmoji with your own custom text, please check out this link here!
Now, to get an account for bitmoji, you will need to download the app from your app store. You can make an account either via your Snapchat or through email. I used my email. You can only make an account on the app, and not on the website.
I recommend getting the app downloaded on either a phone or an iPad, because it will probably work better on there than on a laptop.
After you make your account, you customize your look! The fun part is that you can change it as much as you want and save outfits that you may want to go back too!
Bitmojis are a great way to add some personal flare and some fun touches to any blog post.
I love having Bitmoji themes in my posts on Kaelyn's Life. I will do themes such as cheese, snow, etc. And.. then all of my bitmojis pertain to that theme. 😀 I am not saying you have to do this, but it is something that I like to do! 😀
And.. the awesome part is that you can add the Bitmoji Chrome Extension on your computer so, you can just click on the extension and BOOM! your bitmojis are lined up and ready to use.
You can download the extension from the Google Play Store.
You most likely have to have Google to do that though. However, I know a blogger that does this, but they will also copy the Bitmojis and then email them to themselves for access to the images that way.
A quick side note is that there are some bitmojis that are not always appropriate because of language, certain phrases, and such, but other than that, everything is AWESOME!!
I even will use Bitmoji to try to out new hair styles and hair colors to see how they might possibly look on me! 😉
My parents, sister, and quite a few friends also use this fun app!! It's the best!!

I have seen quite a few bloggers use Bitmoji as well! 😀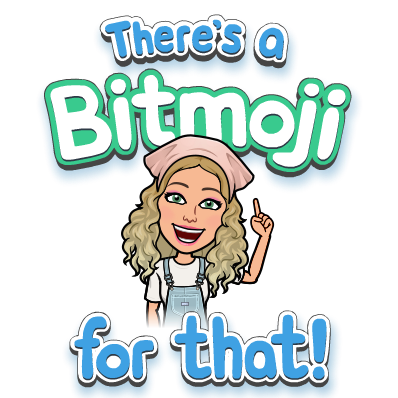 And for real, there is almost a bitmoji for like…anything! 😀 Not everything, but almost anything… i don't know if i phrased that well, but.. moving right along! 😀
I highly recommend that all bloggers get a bitmoji because…
There is a bitmoji for almost anything! So, if you want a bitmoji with a bumblebee, there is one with a bumblebee! If you want cheese, there are many choices for that (what is my thing with cheese…idk… 😛 )
You can personalize it to look like you and to show your style and personality! It may take awhile to find the look that is just right for you! I know it took me a bit to finally get it to look quite a bit like me, but I eventually got it.
They are super fun to place in your posts to add that personal flare!
They are also super wonderful to use in any of your personal texts and emails with friends, bloggers, and family!
I hope you all enjoyed this post and if you want more information on Bitmoji, feel free to check out their website here!
In the comments- I would love to hear your thoughts on bitmojis! Do you think they are great for blogging? Why or why not? Do you have a bitmoji? And if you don't, do you think you might make one?

Plus.. random question… what is your favorite type of food! Mexican, Chinese, Thai, etc? I am curious to hear what you all like!! My favorite is probably Mexican food!!
I hoped that you all had a wonderful Christmas with your family and friends!
Until next time my peeps!